Only the age of the Internet could produce a writer capable of synthesizing political and cultural journalism with a millennia-old system of spiritual analysis -- astrology. Eric Francis Coppolino, founder and editor of Planet Waves, is not a predictive astrologer in the conventional sense, but rather a modern, holistically aware philosopher and agent of change, so respected he was invited to present at the American Psychological Association's world conference in Toronto this summer.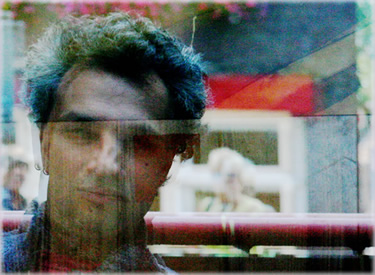 Eric Francis on Maastricht Bridge, Netherlands.
He came to astrology from investigative reporting. Eric's environmental writing has reached the pages of
The New York Times
, the
Village Voice
,
Sierra
magazine and
The Ecologist
. Taking on something as seemingly out-there as astrology, he never gave up his journalistic credibility. Hence, when Pluto was declared 'not a planet',
The Wall Street Journal
put him on page one. His research-based astrology, focusing on newly discovered planets, has appeared regularly in such titles as
The Daily Mail
,
Harper's Bazaar
,
Woman
, and
People.com
. Morphing the worlds of reason and belief seamlessly, each article he writes seems to invent a new genre of journalism.
He has taught holistic astrology at the
Omega Institute
(for whom he is their monthly
horoscope columnist
) and investigative reporting at the Gay Bloggers' Summit in Washington, DC. He has been a presenter at
relationship conferences
around the country since the late 1990s, teaching mainly on the subject of life beyond jealousy. In an era when we look to comedians for the most accurate news on television, is it possible that someone who understands the parallels between the human psyche, global events and planetary movements would be someone to turn for a sane worldview?
Commenting on our age of alienation and paranoia, Eric wrote recently, "Going in through a kind of spiritual side door, I use an astrological approach to current events that reveals their direct human relevance. Astrology reveals that we are part of every story. This angle involves your growth and explains something about where you connect with the world. If you imagine what the media of the future would be like, it would not simply be good news; it would simply not be bad news; it would convey spiritually and psychologically relevant information that you can experience in the context of your own existence."
Thousands of readers every day seek Eric's perspectives on
PlanetWaves.net
, which has been publishing continuously on the Internet for 11 years. Paid for by its readers, Planet Waves has clients in every state and 25 countries. Through his creative team located in Finland, France, Great Britain, Australia, Ukraine and the United States, Planet Waves weaves together astrology, cultural astronomy, art, politics, sexuality and spirituality. His clientele includes media-based readers and consulting clients in every walk of life. Eric is the author of
Small World Stories
,
Next World Stories, Cosmic Confidential, Light Bridge
and
Book of Blue
. His most recent project,
Revolution. Revelation. Reality Check.
, was released in January 2012.
Eric is available as a commentator or for television, radio and print interviews.
Planet Waves Corporate Office
Contact: CHELSEA BOTTINELLI
(206) 567-4455
info@planetwaves.net
Representation: BOOK OF BLUE LLC
(845) 797-3458 or
(845) 331-0355
blue@bookofblue.com
-----

Note to Visitors: I have two friends named Eric Francis. One is an editorial photographer from Omaha, and the other is a writer from Little Rock. These links take you to their contact information.