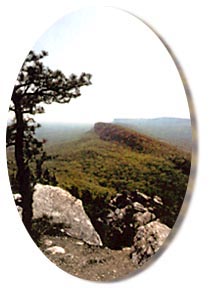 Pirates of the Shawangunks
Planet Waves for August 2001 | By Eric Francis
......To get the most out of this story, you'll need to be familiar with two concepts, and then the rest should be obvious, or if not, unbelievable. The first is "land conservancy" and the second is "adverse possession."
......A land conservancy is a nonprofit organization created to preserve what is left of nature. In New York's Hudson Valley -- particularly along the Shawangunk Ridge and in the neighboring valleys -- there are a number of them, including the Mohonk Preserve, Friends of the Shawangunks, the Rondout Land Conservancy, and others. Their charge is to protect undeveloped land perpetually, and make it available to the public for limited use, such as recreational or educational purposes.
......Land conservancies, like 501-C nonprofit organizations, are exempt from paying real estate taxes and corporate taxes. They get their money through public donations and from huge trusts, like Open Space Institute and the Lila Wallace-Reader's Digest Fund. They acquire much of their land from people who have homes neighboring an existing preserve, who either willingly sell their land to a conservancy, or will it to them. Willing is a big deal for a conservancy; in their PR materials, they like to use the word a lot, such as "willing seller."
......Next: adverse possession. This is a method of acquiring property that is akin to squatter's rights, or acquisition by trespassing. The classic adverse possession case is if you build a barn and half the barn is on your neighbor's land, but your neighbor doesn't notice or doesn't care. If 10 years go by, you can make an adverse possession claim to the land on which your barn sits. You occupy it, you built an improvement, and maybe your deed isn't clear about the boundary line. If you win in court, the land is yours. It is an extremely rare method of land acquisition, and it's not friendly.
......Now, here is the story of how a land conservancy called Friends of the Shawangunks is fighting with its neighbors, Karen Pardini and Michael Fink, to acquire their land by adverse possession. Friends of the Shawangunks works directly with Mohonk Preserve, and in fact was created in the 1960s as an "advocacy organization" for Mohonk. Today, it sells most of the land it acquires to Mohonk.
......In 1994, Friends of the Shawangunks, with the assistance of Mohonk, sued two of its neighbors, Karen Pardini and Michael Fink. Karen and Michael are the current owners of the old Smitty's Ranch on Clove Road. This now-closed High Falls bar and hotel was an Ulster County landmark for generations. The lawsuit is an extremely complicated tale, but in brief, Friends and Mohonk, according to court exhibits, made a claim to land they knew they didn't own. The suit was going quite poorly for them, and in fact a judge later dismissed all the original elements and said that Karen and Michael could sue Friends of the Shawangunks for fraud.
......The conservancy felt it needed to get Karen and Michael's land another way, so in 1995, it purchased a strange old deed from two area men, Wayne Kelder and Lars Hagen. In 1982, Kelder and Hagen had purchased an ancient deed at an estate sale for $7,000. The deed contained no address, no metes and bounds, no exact acreage, and not so much as an approximate road location. The estate sale deed dated back to an even older World War II-era tax sale deed, which in turn went back to a 1911 "quitclaim" deed. At minimum, you could say that this is a very shaky chain of title. The funniest part is that in 1911, the same piece of land was conveyed twice: once when it was taken by the state for taxes, and again when the prior owners, after losing it, "sold" it to a logger. So, there was the real land, and the phantom deed which originated with the 1911 purchase by the logger.
......It appears as if the creators of the original phantom deed altered the description of the land in such a way that it didn't match the real property or the real deed that was on file with the county. In fact, no other deed in the county has descriptions/adjoinders which align with this one.
......At the time Kelder and Hagen purchased the phantom deed at the estate sale in 1982, neither the current deed nor any of the prior ones were on record with the county as far back as the 1940s. Nobody could actually find the land on the ground, including Hagen, Kelder, or the mystery deed's previous owners, the Osterhaut family. In more modern times, no title searcher has been able to locate the phantom parcel of land.
......Kelder and Hagen filed their deed with the county attached to a map encompassing about a third of the property already owned by Karen Pardini and Michael Fink -- the old Smitty's Dude Ranch. The Kelder and Hagen deed had nothing to do with Karen and Michael's land; the real land to which their phantom deed once pertained (nearly a century ago) was more than a mile away.
......If you're wondering why everybody is after the Smitty's Ranch property, it's that it's no ordinary piece of real estate. It's a secluded, lush forest with the spring-fed Coxing Kill running straight through its center. There is a five-tier waterfall. Most of the 204 acres are undeveloped; there's just a house and a barn. It's commercially-zoned, making it extremely valuable. And, best of all, it's adjoined by Mohonk Preserve on three sides. No neighbors! Except, of course, for Mohonk -- and the land in question is directly in view of the tower at the Mohonk Mountain House.
......Meanwhile, Norman van Vaulkenburgh, the joint-surveyor and land-acquisition official employed by both Friends of the Shawangunks and Mohonk Preserve, was aware of the supposed Kelder and Hagen claim when he was searching for land in the Clove Valley that could potentially be preserved, back in the early '90s. Their claim was something of a joke, because the deeds referred to nothing, nowhere, and everyone knew it.
......Van Vaulkenburgh conducted an extensive search for the alleged Hagen/Kelder parcel, and in a confidential 1993 report to the Friends of the Shawangunks, obtained by Chronogram, he concluded that Kelder and Hagen had no claim to any land anywhere in the vicinity, nor did any of their predecessors listed in the various deeds for "many years" before. "In conclusion, we can find no basis of the claim of ownership by Hagen and Kelder," van Valkenburgh wrote in his report to Friends of the Shawangunks, which was certified with his land-surveying license and official seal.
......Then, two years later, in 1995, in the middle of their failing lawsuit against Karen and Michael, van Valkenburgh and the Friends of the Shawangunks reversed themselves on the issue of whether the phantom Kelder and Hagen property existed. For $37,500, Friends purchased from them the very claim which van Valkenburgh had previously said didn't exist! With that in hand, Friends went back to war with Karen and Michael.
......But in a 1997 decision, State Supreme Court Judge Vincent Bradley ruled that the Hagen-Kelder deed had "no relevance" to Karen and Michael's property because the "Hagen/Kelder quitclaim deed description does not, in fact, cover any of defendants' property and is also void for vagueness."
......This did not stop the Pirates of the Shawangunks. If the Kelder and Hagen deed was pure fluff, then they would take the land by the only remaining method, adverse possession. The conservancy, in its court papers, claimed that Kelder and Hagen had hunted and chopped wood for a full decade on the land, a form of trespassing which they feel gave them the right to steal it from its owners.
......Who exactly is doing this? The links between Friends of the Shawangunks, Mohonk Preserve and other organizations like Open Space Institute are well-established. One is a man named Robert Anderberg, who has been intimately involved with all three organizations for many years. Another is Norman van Valkenburgh, who does all the surveying for Friends and Mohonk. Another is Keith LaBudde, president of the Friends of the Shawangunks; he married into the Smiley family, founders of Mohonk Mountain House, which in turn created the Mohonk Preserve.
......Mohonk Preserve's executive director, Glen Hoagland, when I interviewed him, denied any involvement in the lawsuit, stating that the two conservancies, while sharing many of the same people, are technically separate. But there is rather amazing documentation that emerged in the course of the case that both corporations acted as one entity in commiting some of the more outrageous acts for which they will soon face a separate lawsuit for fraud.
......The current 'adverse possession' lawsuit against Karen and Michael is now in its final stages; this summer, the trial over whether Pirates of the Shawangunks can preserve land by adverse possession is slowly unfolding. Though Judge Bradley already threw out their case, an appeals court sent it back to State Supreme Court for a trial on the specific issue of whether the adverse possession claim was valid. [Note on June 6, 2002: The case was finally dismissed for complete lack of merit, and all appeals are exhausted.]
......Even if it is, does this open the door to a new method of land conservation -- glorified trespassing? Hunting and cutting trees on land you don't own, then claiming it as yours?
......We shall see.++
For the full background on this issue, please take a look at this article from Woodstock Times by Eric Francis.
---