Aries - April 2003 Planet Waves

by Eric Francis
---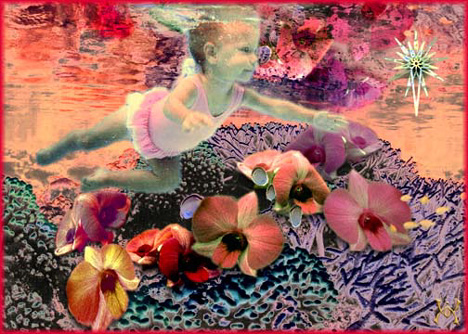 Webcasting Comes to Planet Waves
Every Wednesday at 8:45 a.m. PST or 11:45 a.m. EST, Eric does a live webcast at http://www.voiceofvashon.org/. Please mark your date book & spread the word.

Above: A Swim by Via Keller | Studio Psycherotica
Aries (March 20-April 21)
Current events may be pushing you to extremes or revealing something at your core that you have found it very difficult to come to terms with in the past, and my sense is that this is not a 'bad' something, rather a very 'good' something. But what you may notice is that it's been expressing itself negatively or destructively. Now is the turning point. The core issue appears to have something to do with how desire and ambition were taken away from by repressive authority figures. But it really has to do with how grotesquely our vital force is cut of and used against us. You may have responded to this treatment by becoming way more passive than your nature will allow. You may have responded by becoming ruthless and workaholic. They stem from precisely the same core material. Events of the current days and of the coming weeks will lay it all right on the table for you. If you can respond with compassion toward yourself, the people who have hurt you, and anyone you feel you've hurt, you will know exactly what to do.

You can get your Eric Francis horoscope every week. Find out how at this link.
Taurus (April 21-May 20)
Recently an unexpected event jolted you to a new level of awareness and feeling. It's possible that you have arrived someplace much better where you'll hopefully be able to stay -- that is, a world in which you are sensitive to the fact of your own existence. How exactly you got here involved some shift in your relationship to the hidden psychological legacy of your dominant parent. This parent, or maybe it was both of them, laid their rather awesome drama of self-control directly onto you. There is much to this, I suggest you look directly at the role of religion in all your suffering in this lifetime. The role of religion can range from how you were made to feel like you were bad, but it can have more subtle effects, such as having silenced the pain of abuse your mother or father experienced, and thus, it was passed onto you. But here is the catch. It was probably passed onto you as moralism. Just think how great life would be if you didn't hold yourself to anyone else's false morality.

You can get your Eric Francis horoscope every week. Find out how at this link.
Gemini (May 20-June 21)
Though you may not notice the full effects right away, your life is about to become much more free and clear of the confusion and debris that have cluttered it for so long, and upcoming events will ultimately help toward that end. By two months from today you will have a sense of just how clear, but expect life to become at least twice as livable and breathable as the rest of the year works itself out. You are still way too close to the process to actually see what you've accomplished. Part of what's obscuring your vision is that you have been doing inner work on a number of different levels and have not quite made the connections between them. Also, part of the theme of the current long cycle is just how much you've had to move through, and that has not exactly been encouraging. But that does not affect the deeper reality: you have actually succeeded at far more than you ever planned. When the dust settles, you will know what I am talking about.

You can get your Eric Francis horoscope every week. Find out how at this link.
Cancer (June 21-July 22)
With so much happening on both the relationship and professional fronts, you may wonder whether you are living your life or your life is living you. It would not matter, except for a potential clash between the two. There will be moments when work absolutely must take priority over your personal affairs, but there will be more relevant moments when a pressing development in the life of someone close to you will require your undivided attention. You will just need to know when to focus on what, and keep clear about your priorities. Now for the rest: What is the common ground? Changes in a relationship may be pointing you toward some long-cherished professional goal. They seem likely to be the real material, the deeper commitment, the genuinely necessary point of growth -- and that equates to a life calling. What is happening in this relationship is a real gift. You're pretty perceptive. I think you'll see it.

You can get your Eric Francis horoscope every week. Find out how at this link.
Leo (July 22-Aug. 22)
Balance is a critical theme for you as the extraordinary weeks ahead of us unfold. I have noticed that Leos have an awesome resilience in almost every aspect of their lives: relationships, physical healing and psychological stability. Even when things get really strange, you're usually on pretty solid ground. Well, things are about to get strange, and not just for you; this is not personal. You are likely to be an important exception to the norm in that your power of focus, awareness and clarity will penetrate most of the static and chaos. But more to the point, the challenges you both witness and experience will grant you exceptional focus and set you on a new path of discipleship. That there are, on the whole, two ways to face life should be more than apparent. That there is just one way for you to face life is the next logical step. Don't let anyone convince you that you're old fashioned.

You can get your Eric Francis horoscope every week. Find out how at this link.
Virgo (Aug. 22-Sep. 22)
It's probably not so comfortable for people to challenge you like they have been doing lately. You are not the type who endures external pressure to change well. But is it all coming from outside? That child within you, the one who has been trying to get your attention for the past year or so, is about to succeed at making his or her presence undeniable, and that's merely being reflected in the world of your intimate relationships and social interactions. There is no doubt that you need more interesting people in your life than the ones you've known in recent years, and every indication that your experience needs to be less predictable than it's been. But there is something about your world view that is becoming less like that of an adult. Children know the truth about life. To the extent you have forgotten, you are now remembering. People who seem to shake you up are just reminding you of what is, in truth, beyond question.

You can get your Eric Francis horoscope every week. Find out how at this link.
Libra (Sep. 22-Oct. 23)
There are certain points in life when it helps to put your emotional healing process at the top of your list of priorities. That's another way of saying reorienting your routines and allocation of resources away from what most people would consider recreation and leisure, and investing them in your deepest needs, whatever they may be. Another way to say this is divesting your attention and energy from externals and devoting it to your internal needs. My take is that you've been contemplating such a strategy for a long time, and have now finally caught up with your own plans. Your charts for the month point to a few basics. One is really keeping a close eye on the boundary between what is you and what is outside of you. Where one particular relationship is concerned, this may be exceptionally challenging. Certain healing processes within this situation are definitely yours and you know it. But whether another person evokes awareness or provokes pain is one to watch, and feel, closely.

You can get your Eric Francis horoscope every week. Find out how at this link.
Scorpio (Oct. 23-Nov. 22)
Most people who tell me their story have very little idea what it means to bear the burdens and pain of their family of origin experiences. Most are dimly aware that there is probably some relationship between their early history and what they observe as the patterns of their lives. But many of the more important contact points disappear into the swirl of experience and emotion. I can give an example that may be relevant. Let's say you have a tendency to keep score in your relationships. And let's say you're aware of a separate situation, which is that you never really feel like your personal healing process is working, or has ever truly worked all the way. Then let's say your grandfather was an alcoholic. Could you make a direct connection between the three observations, in the first instance, and then use that information to deepen your understanding significantly, in the second? The realizations now awaiting you are more subtle than this. They may go against your intuition, your common sense, or your current knowledge of family history. Please don't let that stop you.

You can get your Eric Francis horoscope every week. Find out how at this link.
Sagittarius (Nov. 22-Dec. 22)
What most people think of as security is an illusion. Often we structure our lives on false promises and misinformation, structures that are no more solid than cracker. As a Sagittarius you typically build with different materials than the rest of the world, and have your own succinct basis for evaluating the truth. It works very well for you, and allows you a rare role within your circle of friends as a kind of intergalactic interpreter, the one who knows beyond the knowledge of the world. Recent planetary movements are making it very clear that even your extraordinarily mystical foundation is shifting. You are being freed or released from the confines of an old cosmology. Ideas you have considered or written about for many years are suddenly becoming manifest: they are becoming you. If at any time in the coming weeks you feel shaky or fragile, check for an old belief or idea running your world and you will find yourself feeling a lot better.

You can get your Eric Francis horoscope every week. Find out how at this link.
Capricorn (Dec. 22-Jan. 20)
It may be challenging for you not to act as the antagonist in a certain situation, but it really would be the best policy. You are currently going through a series of profound transitions during which it would be wise to question the motives of your actions and the accuracy of your perceptions. In fact, reassessment is the overarching theme of your life right now, and in such a process, it makes sense to err on the side of not being so sure about anything. You may not yet recognize how much good can come of taking a deeply self-reflective position, and from examining the history behind events which seem to possess their own volition. Nothing in this world exists without a cause -- not you, not the people around you, and most particularly, not the feelings you experience and endure. If you are inclined to think, "I am healed," the issue is not so much that you are wrong. The concern is denying that you are a work in progress, and that healing is by necessity a process with many layers and many slow revelations.

You can get your Eric Francis horoscope every week. Find out how at this link.
Aquarius (Jan. 20-Feb. 19)
You may now, finally, be discovering what it feels like to rest. Events of the past seven years hurled you through so many stages of growth and so many friends and group associations that you have probably forgotten half of them. I don't blame you for this; it's not showing up in the chart as a manifestation of 'modern life', but rather as an inevitable stage of your growth that has left its mark on your body and soul. The thing is you can afford to ease back on the pace because you have accomplished so much. This is a very, very important time of gaining perspective, of understanding your personal history, and getting clear about where the truly unique points of your values systems match up with those of the larger world. There is a new place waiting for you. It may take you the rest of the year to find it. It may be geographic or metaphorical. But the affirmation of what is right will come from your heart, not your mind. That's where to look, to see and to know. And that takes time.

You can get your Eric Francis horoscope every week. Find out how at this link.
Pisces (Feb. 19-Mar. 20)
How have you handled the changes of the past three or four weeks? Are you more stressed or more relaxed, or a curious combination of the two forces? Do you feel stronger, or strangely not quite yourself? You'll probably have other words, ideas or experiences to relate. Looked at one way, they are a sign of things to come. Looked at another way, what you've experienced is the first feedback from within yourself on the rather compelling ingress of Uranus into Pisces, where it has not been since the 1920s. Uranus is often described as energy and Pisces is the high-conductivity saline pool of all human potential. Over the foreseeable future, many previously hidden or unavailable possibilities will stir to life. The primordial soup of all the human elements has been struck by the cosmic fire that animates all life. This may not be comfortable at first. But you will surely benefit, and all the more for every hour you spend in an unfamiliar state of mind, or of heart.

You can get your Eric Francis horoscope every week. Find out how at this link.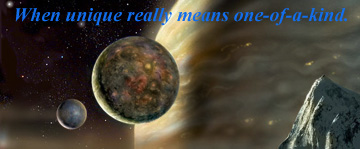 ---
Search | Horoscopes | Contents | Index | Consultations

Space graphic above from the Rosette Nebula in Hydrogen, Oxygen, and Sulfur.
Credit: T. A. Rector, B. Wolpa, M. Hanna.