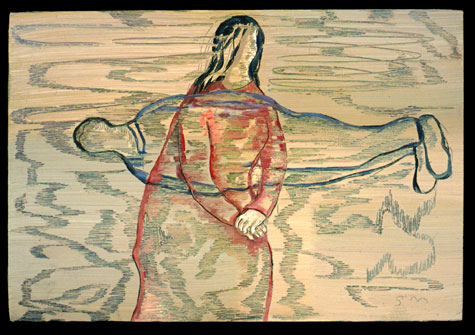 Planet Waves for June 2003


By Eric Francis

Illustration by Sheila Miles
We have emerged from the eclipse phase and Mercury retrograde of May and have crossed an invisible bridge to a new phase of life. The Jupiter-Neptune opposition has peaked, as we now make the seven year journey to the conjunction (exactly conjunct Chiron at 27 degrees Aquarius,
"an ancient pottery bowl filled with fresh flowers"
) on May 27, 2009. In the first week of June, we will experience the ingress of Saturn into Cancer, joined there by the hypothetical planet Kronos. Watch the
daily
page for short essays as the story unfolds, or tune into the
weekly
edition where the most of the details will be discussed.
Note to readers: for about an hour on Sunday evening or early Monday morning, the wrong horoscope was posted.
Aries (March 20-April 21)
You are evolving into a different relationship to your local environment, a process which likely became apparent through a series of interactions or transactions that unfolded last month. The effect has been twofold. First, you know more about the place you call home. Second, you are able to work with that information and take advantage of fluctuation and change rather than be sent into a tailspin by it. Any increase in value means a change in value. Thus, any change can potentially be worked into a mode of development. You may think you live in a small world, but large and small are often meaningless terms in the holographic universe. The people you connect with in your home and local world connect you to people everywhere, and I don't just mean in the symbolic sense.


You can get your Eric Francis horoscope every week. Find out how at this link.
Taurus (April 21-May 20)
Why do you see what you see? What do the images that appear in your vision tell you about yourself? Now is a good time to ask, because your foundations are as strong as they've ever been in this lifetime, and it's safe to invoke the more challenging spiritual and psychological questions. Here is another one. What do the life events of the people around you tell you about yourself? There has been no shortage of movement, shift, change and high drama in the lives of certain close partners. No one is in your life by accident. I am not saying they are there by fate; rather, they're there by the results of an energetic equation. Every equation has two sides, and ultimately they must balance.

You can get your Eric Francis horoscope every week. Find out how at this link.
Gemini (May 20-June 21)
This is the big month that Saturn leaves your sign. Perhaps you've viewed this transit as a curse, because it's forced you to come to terms with certain distinct limits in your life. But limits work at least two ways, one of which is to set minimums. If you'll look honestly at your life over the past three years, I think you'll see that the lowest possibilities you're willing to accept have been pushed somewhat upwards. That means that your highest potentials have been raised as well. The main job of Saturn is to help us learn the metes and bounds by which we define our existence. Discovering where the edge is has bestowed a greater gift than you may recognize, though that's just a matter of time.

You can get your Eric Francis horoscope every week. Find out how at this link.
Cancer (June 21-July 22)
Cancer's symbol is that of a crab in its shell, a strong but flexible structure containing and protecting the delicate life within. Crabs are arthropods, the single most successful form of life on World Earth, which can be found everywhere from the depths of the ocean to the highest mountain peaks which support life. Saturn's presence in your sign for the next 29 moons offers you more of what you are naturally: the qualities of a person who seeks security amidst the innumerable changes of the world, and who very likely finds it. But for starters, there's one more really vital element. Saturn, the planetary ruler of your opposite sign, will grants you a most unusual asset of being able to fully identify with the experiences of the people most important to you. Whether you are in a life partnership or seeking one, you may consider this a truly positive omen.


You can get your Eric Francis horoscope every week. Find out how at this link.
Leo (July 22-Aug. 22)
Recent turns of events have completely recast your role within your social existence, though the rest of the Sun's transit through Gemini (through June 21) will tell that story. Any true creative must balance their outer life with their inner life as sources of strength. Often when we have one, we want the other, but in reality, when we are experiencing one, we can see the other so much more clearly from that vantage point. No matter how many friends are around you or how they may perceive you, you are aware of something far deeper and more cosmic about yourself, and this is the mysterious other side of you that so few get to see. Only you know what truly motivates you because only you can experience it directly. But the people who gather around you can feel it emanating from you quite clearly.


You can get your Eric Francis horoscope every week. Find out how at this link.
Virgo (Aug. 22-Sep. 22)
Perhaps it's seemed challenging sorting out truth from lies in your relationships lately, but how much of that is about the people you're associating with, and how much is about the world we live in? Or, closer to home, what does it take to penetrate the lies about sex, love and companionship that we were told by our parents? I say told, but what I mean is that we learned from example and osmosis. Too often we were told one thing and shown another, or we saw one thing acted out and felt another vibed to us. But what was (and is) usually conveyed is an invisible split. That is what's being revealed to you now, what you are revolting against, and what has always daunted you about others. But freedom is in sight, or rather, insight. Look, and you will see.


You can get your Eric Francis horoscope every week. Find out how at this link.
Libra (Sep. 22-Oct. 23)
The particular beginning at which you find yourself is about accepting a degree of what, on one level, feels like worldly responsibility. But in truth it's about your personal responsibility to be part of the world in a new way, one in which your full capacities are expressed in a new kind of relationship. With the transit of Saturn across your solar midheaven, there is a shift happening in the inner axis of power in your life. You are not becoming king of the world, but you can no longer afford to treat yourself, or allow yourself to be treated, like you're in second place, or like you are not fully responsible for your reputation. Take that responsibility. A reputation is an investment, and it takes both awareness and work. But this point, it just happens to be a very good bet.


You can get your Eric Francis horoscope every week. Find out how at this link.
Scorpio (Oct. 23-Nov. 22)
Life is happens in practice, not in theory. That's always true, but fortunately so now, because theoretically your plans are impractical or too large, you may lack the faith to carry out your intentions, and you're likely to think that you can't see past your front yard in terms of all you need to know to make things happen. Now, as for practice. There really is no holding you back. The creative impulse is he strongest force in nature; without it, the human family would a) not have endured the past 50,000 years of wilderness survival training that is life on Earth and b) we would not be so obsessed with making films, books, magazines, paintings, buildings, love affairs and families. Yes, you are taking a rather daunting risk, no, you can't do anything about your impulse to do so, and thus, you might as well leap with both feet and see where you land.


You can get your Eric Francis horoscope every week. Find out how at this link.
Sagittarius (Nov. 22-Dec. 22)
"Another man's soul is darkness," a Russian proverb reminds us, words that may speak to the current era of your relationships in some way. If it's not as hopeless as our Russian forebears would have us think, my sense is that you're never quite able to look at someone and see just one person. You may see different facets that don't quite add up, or you may see two distinct sides that you're able to reconcile. But more likely, you see who you once were, before you had done so much work integrating yourself. Remember, though, that when you look in a mirror, you see a reverse image -- you see what no one else sees. And you don't get to see what everyone else sees, or, for that matter, feel what they feel. But the light of the soul goes beyond perception and emotion.


You can get your Eric Francis horoscope every week. Find out how at this link.
Capricorn (Dec. 22-Jan. 20)
It takes a lot of patience for us all to get along with one another. In order for getting along to actually work, two people who are coexisting with one another must possess a steadfast dedication to finding common ground and building their relationships from that space. When one falters, hesitates or gets lost in their own maze, it's pretty much up to the other to hold that space of community, that is, if the relationship is going to persist and find its next dimension. What happens next represents an opportunity for you to put to work all that you've learned from certain deep struggles that have occupied you for the past 18 or so months. Beyond that, you are being given an opportunity to demonstrate your loyalty to someone that you have held in your heart, despite your own adversity. But more than anything, you're being given an opportunity to be fair.

You can get your Eric Francis horoscope every week. Find out how at this link.
Aquarius (Jan. 20-Feb. 19)
Aquarius is the very den of astrological contradiction. An air sign with a reference to water and ruled by a pretty earthy, structured planet (Saturn), your sign is also co-ruled by the lord of revolution, the Promethian planet Uranus. But slowly, everything under the sun is coming into tune. Uranus and Saturn are meeting in water signs, revealing an extended time of ease with yourself, and an accentuation of the substance of who you are rather than the form: the water and not the vessel. Aquarians often endure long periods of denial of what for others are pretty basic needs. Through the summer and well beyond, the stage is being set for at least one of your most precious desires to be put within arm's reach. From there, you will need to extend yourself and draw in the embrace.

You can get your Eric Francis horoscope every week. Find out how at this link.
Pisces (Feb. 19-Mar. 20)
In recent months, the world has been getting the feel of Pisces Power. Jupiter and Neptune have been face to face in their rare opposition aspect. Uranus slid into the Piscean Sea in March, the seventh centaur, Pelion, has just been named while in your region of space and asteroids are showing up in force. Next, Mars enters Pisces and the mighty Saturn enters your fellow water sign Cancer. Trust me, you can handle this. It's as though you've been building a fabulous boat in a very dry spell of years, and now there's suddenly some deep and daring water to sail in. But now the law of the sea prevails. Don't leave home without a compass, please. Learn to listen to the wind, and watch for changes in the weather. Check your batteries. If you get an intuitive message, no second guessing.

You can get your Eric Francis horoscope every week. Find out how at this link.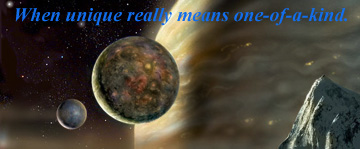 ---
Search | Horoscopes | Contents | Index | Consultations

Space graphic above from the Rosette Nebula in Hydrogen, Oxygen, and Sulfur.
Credit: T. A. Rector, B. Wolpa, M. Hanna.