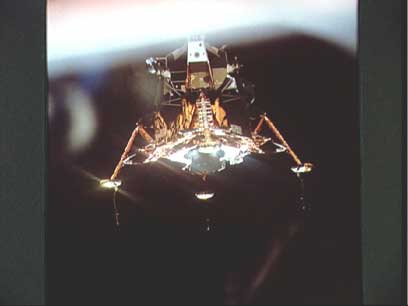 At 1:47 pm EDT, July 20, the Lunar Module 'Eagle' carrying Neil Armstrong and Edwin Aldrin, separated from the Command Module 'Columbia'. Michael Collins, aboard the CM, took this picture of the LM as it prepared for its descent to the lunar surface. "You cats take it easy on the lunar surface," Collins said as he released the LM. The lunar horizon can be seen in the background. NASA Apollo 11 Image File

Planet Waves for July 2003


By Eric Francis
Aries (March 20-April 21)
'Focus' is what you're hearing whispered in your ear. With your ruling planet Mars about to stop and change directions in Pisces, the most sensitive angle of your chart, if you can quiet your mind, your intuition will be clear and vivid. If you get distracted by your fear, which has been all too common in recent months, you'll find that it's impossible to take advantage of the extraordinarily rare viewpoint you're being given. The potential is nothing less than a complete reassessment and redefinition of who you are. Though often promised by various spiritual paths or self-help projects, this happens all-too-rarely. It's not necessarily going to happen quickly, though you are aligned with a few choice moments of revelation that are equally subject to both doubt and faith. Please choose carefully.


You can get your Eric Francis horoscope every week. Find out how at this link.
Taurus (April 21-May 20)
The rewards of the life you've chosen to live are calling you. One such reward is a role in your community and your family that in many ways seems quite unsuited to your nature, but which is very much in tune with your deeper awareness of yourself. Part of that role involves being a kind of arbitrator between what is true and what is not true. You could not do this unless you had an evolved sense of your own personal truth and worth, which is rapidly taking shape within your consciousness. Remember that what is not true, honest or authentic has no power over you, which is why you can afford to be bold. And if you hold this awareness and speak from your center, my sense is that a much better life awaits you, and for reasons you truly deserve.

You can get your Eric Francis horoscope every week. Find out how at this link.
Gemini (May 20-June 21)
Get in contact with your long lost siblings and work out any old rivalries or issues that may be standing between you and clear communication with them. This is a rare moment to clear the air and let go of some old pain. You're feeling good enough about yourself to take the initiative, and doing so will help you feel even better. If you've noticed, all that really stands between you and what you truly desire is how you feel. So take care of that first. Next, I suggest you nourish your ideas, of which you're going to have plenty soon enough. Though there may be a delay, the thoughts that move through your mind in the coming eight weeks have unusual power to help you improve your life and those of many people around you. If you bring patience and attentiveness, the universe will bring the gold.

You can get your Eric Francis horoscope every week. Find out how at this link.
Cancer (June 21-July 22)
Maintaining a sense of irony and holding your heart lightly will take you a long way, and it will do so for a long time. Saturn is now in your birth sign. Though known as the lord of structure and strength, Saturn is also the lord of humility and humor. Many months of effort and years of contemplation of your inner truth are finally starting to show material results, but you would be wise to reinvest your gains in extremely stable investments: land, eliminating debt, and supporting the people who support you the most generously. Think for the long term, structure your life carefully and take only calculated risks. There are no guarantees in life, but if the stars mean anything at all, you're on very solid ground. Whatever you do, do it a little at a time, and let love guide you to where you want to be.

You can get your Eric Francis horoscope every week. Find out how at this link.
Leo (July 22-Aug. 22)
This is quite literally the most fortunate -- I dare say lucky -- time in many years. But if you want to preserve your gains and increase your standing in the long-run, be careful in joint financial situations right now. If business partners or your spouse wants to take it slowly and consider the fine print on any proposed arrangement, that's going to work quite well for you in the long run. In the meanwhile, your true reward is the awareness of how rich your life is on the heart level: in friends, in support, and in your awareness of your value to the people closest to you. If you're feeling something quite to the contrary, consider whether your expectations are getting in the way of your deeper joy. There is no easy answer for what to do with expectations, except, of course, throw them to the four winds.

You can get your Eric Francis horoscope every week. Find out how at this link.
Virgo (Aug. 22-Sep. 22)
This is not a time to go blow for blow in any situation where conflict might arise, and it's not a time to play against an adversary you don't understand or know well. That means you must inform yourself, take a proactive approach and most important, play every change to your benefit. That might involve taking a short term loss here and there, or dealing with the fact that someone may have recently discovered a knack for changing their mind and not telling you. The best of who you are is hidden in a kind of psychic blind spot right now. You are inclined to think of yourself in distorted, aggrandized or self-effacing terms rather than as someone who is competent, well-intentioned and most of all protected from harm.

You can get your Eric Francis horoscope every week. Find out how at this link.
Libra (Sep. 22-Oct. 23)
Questions about your health may have come into the picture recently, but I can assure you that whatever you might be suffering from is most likely stress-related, and that means work-related. That's another way of saying that if you relax, you're going to feel a lot better. You don't need to put out so much effort, and the more you try to keep one particular situation stable, the more it's going to be squirm around. The coming season will present you with several major opportunities to make long-needed adjustments in the way you work, where you work, and why you work. They may arrive in inconvenient forms, but they are no less priceless -- owing to your own creativity.

You can get your Eric Francis horoscope every week. Find out how at this link.
Scorpio (Oct. 23-Nov. 22)
This is your time to reach for the stars. But do you really understand why people respect you? Or have you so bought into the notion of Scorpio as control freak that you've forgotten that you do what you do because you care and because you place a high value on right action and good work? One reputation exists largely in your mind. The other exists in the world around you. You can afford to relax and let the right thing happen, and to lead by ideological guidance and the momentum of your success. Part of that success involves your gift at knowing when to adapt to change, and when to hold absolutely steady. In any event, you seem destined to move up in the world, though you're not going to do it alone. No one ever does.

You can get your Eric Francis horoscope every week. Find out how at this link.
Sagittarius (Nov. 22-Dec. 22)
Be mindful of all activity in your home right now. Who is coming and going, what are their views, what are they saying, what do they believe and what do they feel? It may seem like I'm suggesting you become Interpol, but the astrology is clear. Awareness is your best friend right now, and it begins at your front door or front yard. On another level, what's happening is that certain long-repressed emotions, from your childhood and perhaps from before you were born, are being stirred up like never before. These may include a mix of anger, inspiration, doubt and fear of deception. Deal with these feelings and you will likely notice just how great your horizons are. Good times await you on distant shores.

You can get your Eric Francis horoscope every week. Find out how at this link.
Capricorn (Dec. 22-Jan. 20)
Partners or spouses may seem to be playing hardball, but you don't have to let it get in the way of your otherwise high spirits. That others may not feel as content as you are in life is not entirely your problem, but we do need to coexist. If you can align toward a common goal, and any one will do, you'll find that things are a lot more amicable between you and significant others in your life. That common goal may involve a total mutual reassessment of your relationship situation. Honesty is the only policy. Questions that have been lurking beneath the surface for years may finally be rising to the light of day, which will prove to be immensely helpful in the long run, even if it's annoying or painful now.

You can get your Eric Francis horoscope every week. Find out how at this link.
Aquarius (Jan. 20-Feb. 19)
There are times when we are lucky, and there are times when we are lucky in love. You have both going for you right now, but they're not separate experiences, and you can take neither for granted. In any case, what's happening is a testament to the strength that's released when necessary and long overdue growth finally comes. There are very good reasons why you're destined to feel, to develop your feelings and understand your emotions as a primary way of being in the world, not as a long-term goal or extracurricular workshop theme. To put it simply, the more responsive to people you are, the more extraordinarily rich your rewards will be, and the more they will feel the gift of your company.

You can get your Eric Francis horoscope every week. Find out how at this link.
Pisces (Feb. 19-Mar. 20)
You were made for these times. While the surge of planets into water signs and the upcoming retrograde of Mars may have many people crawling for dry land, water is your nature. You understand, as Adrienne Rich said so beautifully, that one must move differently down here. You are entering one of the most introspective eras of your life, when you'll be able to look honestly at your own contradictions and mysteries. But please don't lay blame on yourself for the pain you see in the world; not everything is your responsibility. Though feelings from the past may seem to rise to life, your memories may remind of you gratefully of what is no longer so, now that you know where you are.

You can get your Eric Francis horoscope every week. Find out how at this link.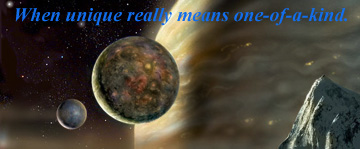 ---
Search | Horoscopes | Contents | Index | Consultations

Space graphic above from the Rosette Nebula in Hydrogen, Oxygen, and Sulfur.
Credit: T. A. Rector, B. Wolpa, M. Hanna.